Rugby U19 - Mahanama lose to St Sylvester's 37-34
Things didn't go as planned for Mahanama in their rugby encounter against St Sylvester's played in Kandy. In a match where Mahanama were expected to chalk up an easy win, it was the lads from Kandy who registered a close win by 3 points. The result dashed any hope Mahanama might have had of breaking into the top 3 anytime soon.
After starting off the season relatively well with a close result that didn't go their way against the more fancied St Thomas's, Mahanama have had a mixed season with their two wins against the bottom of the ladder teams Nalanda and CWW. Injuries to key players haven't helped and their bench strength was severly tested in a heavy defeat against Wesley. They will need to get into top gear if they are to have any hopes of finishing in the top 3 this season. St Sylvester's by earning a tight win have given their school a chance of not being demoted to Division II next year.


Mahanama wins the 6th annual Battle of the Golds ODI encounter
Naveen Silva, with an unbeaten 36 runs, steered Mahanama College to a four wicket victory on Duckworth and Lewis system over D S Senannayake College, Colombo in their sixth annual limited overs cricket encounter at SSC grounds yesterday.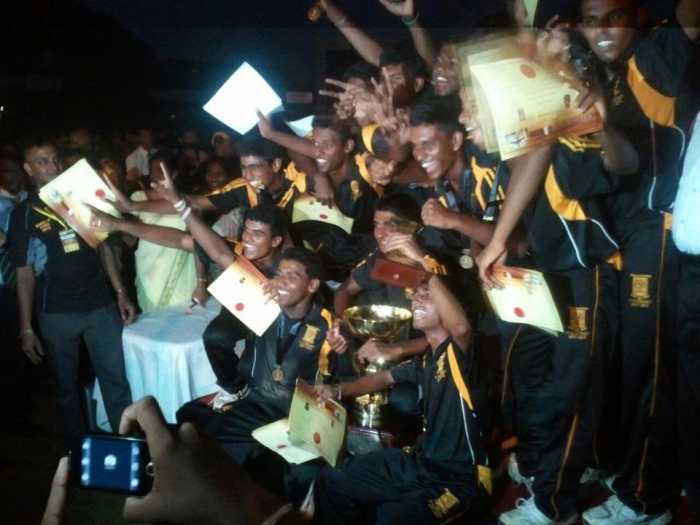 Batting first D S Senanayaka College were all out for 198 runs in 45.4 overs. Mahanama College had to chase a revised target of 168 runs in 31 overs after the rain disturbed their reply innings when their total was 94 for 5 in 21 overs. They reached the target in 30.5 overs.
Naveen Silva who played a vital innings of 36 not out was adjudged the man of the match.
DS Senanayaka College: 198 all out in 45.4 overs (Lasith Abeyratne 41, Harith Maduwantha 28, Duleeka Brahmanage 24, Nayana Prabath 2 for 34, Janaka Dayananda 3 for 26 )
Mahanama College: 168 for 6 in 30.5 overs (Pavan Devinda 21, Janaka Dayananda 28, Naveen Silva 36 n.o , Kaveen Bandara 2 for 25)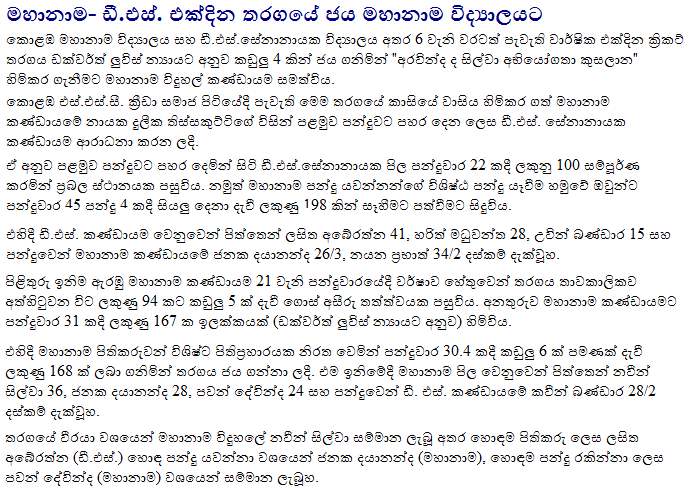 Battle of the Golds 2012
The sixth Annual Battle of the 'Golds' between D.S. Senanayake College and Mahanama College ended in a draw with D.S. Senanayake at the SSC grounds yesterday.
D.S. Senanayake College: 276 for 8 declared (U. Bandara 25, Binura Fernando 103, J. Dayananda 4 for 67).
Mahanama College: 29 for 1 overnight 171 (Pavan Devinda 38, Duleeka Tissakuttige 39, Chatura Jayasinghe 39, Hasith Maduwantha 5 for 58) and following on 228 for 8 in 45 overs (Duleeka Tissakuttige 51 (57 balls, 10 fours), Chatura Iddamarachchi 22, Pavan Devinda 41, Janaka Dayananda 55, Dayan Perera 31 n.o., Suchintha Karunaratne 3 for 48, Harith Maduwantha 2 for 58, Uvin Bandara 2 for 25).