මහානාමයේ කරාතේ ශූරයෝ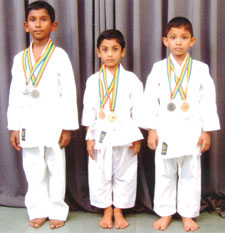 ගාල්ල මහ නගර සභා ශාලාවේ පැවැති කෙන්ෂෝ කරාතේ ඉන්ටර්නැෂනල් සංගමයේ වාර්ෂික තරගාවලියේදී කොළඹ මහානාම විදුහලේ වයස 8 න් පහළ සංෂේන් නිම්සර (රන් පදක්‌කම් 2 යි) රන්දිල රණවක (රන් පදක්‌කම් 1 යි රිදී 1 යි) සහ දිනිදු නිලූෂ හේරත් (රිදී පදක්‌කම් 2 යි) දස්‌කම් දැක්‌වූහ.
සංෂේන් (මැද), රන්දිල් (දකුණ) සහ දිනිදු (වම) ඡායාරූපයේ වෙති.
Cricket U19 2012/13 - Mahanama on first innings over Trinity
Having declared their first innings at 203 for the loss of 9 wickets, Mahanama dismissed Trinity for 177 to a earn valuable first innings win over a strong Trinity outfit.
Trinity fought back hard and dismissed Mahanama for 95 in their second innings leaving them with a lead of 122 runs. The match however ended on a dissapointing note as rain put an end to what could have been a thrilling run chase. S Tharanga top scored for Mahanama in both innings whilst Trinitian Hasitha Boyagoda took 4 for 15 to restrict Mahanama in their second innings.

Played over 6-7 November at Board of Investments Grounds, Katunayake.

Mahanama 1st Innings: 'A' 203 for 9 wickets decl (S. Tharanga 67, N. Praneeth 48, Tashila Dodanwela 4/34, Pubudu Samarasinghe 3/66)

Trinity 1st Innings: Trinity College 'A' 177 all out in 55 overs (Nushan Weerasinghe 38, Dinal Koswatte 34, S. Chamara 2/36, N. Gihan 4/44).

Mahanama 2nd Innings: 95 (S. Tharanga 46 not out, Prashan Weerasinghe 2/16, Tashila Dodanwela 3/28, Hasitha Boyagoda 4/15)
Cricket U15 2012/13 - Mahanama secures a place in the Final
In a tense match played at Colts Cricket Ground, Mahanama defeated Lumbini by 14 runs to book a place in the final of the Inter School Under-15 Division I cricket tournament.
Mahanama will meet St. Peter's in the finals at Colts on Tuesday (13).

Played over 6-7 November at Colts Cricket Ground, Colombo.

Mahanama: 136 all out in 49.2 overs (Ishara Rashmika 32, Banuka Priyamantha 23 n.o, Mohamed Akram 2/25, Thanuka Madushan 3/26)
Lumbini: 122 all out in 39.4 overs (Mohamed Akram 53, Sahan Peiris 2/25, Vimukthi Ayesh 3/16, Banuka Priyamantha 2/22)
Annual General Meeting 2012
We wish to thank all the members who attended the Annual General Meeting held on 27th October 2012 at the Australia Education Academy.
The association thanked the out-going president Champaka Somaratne and his committee for a highly successful two years. Manoj Fernando was unanimously elected President for the coming year with Champaka Somaratne as his deputy. Full Committee can be viewed under the 'About MCOBA' tab.

Annual General Meeting - 27th October 2012
MCOBA Australia wishes to thank all members who attended the the Annual General Meeting for 2012 held at Australian Education Academy, 10 Blissington Street, Springvale on 27th October 2012 at 2.00PM.
A new committe was elected comprising of past and new old mahamaians for the year 2012/13. Meeting was followed by light music and dinner to round off another highly succesful year for MCOBA Australia.

Golden Vibes 2012 - Annual Dinner Dance
We would like to thank all past Mahanamians, their family members and friends who attended MCOBA's Annual Dinner Dance 'Golden Vibes 2012' on the 1st of September at the lovely Glen Eira town hall.

The night started off with the lighting of the traditional oil lamp followed by the school anthem. To kick off things into gear, a traditional SL dance was performed by the kids of MCOBA Australia members that really caught the attention of everyone.

The night was filled with music from the band Midnight Mist who entertained with a range of oldies and new songs with Dj Mana spinning some nice beats that really got the crowd on their feet.
In between the music and a sumptuous buffet, everyone had a wonderful time catching up with old friends and buying tickets for the raffle draw. The crowd was further entainted by a brazillian dance troup who showed off some exciting samba moves much to the delight of the crowd.
MCOBA Australia would like to thank and acknowledge everyone who worked tirelessly to make this year's Golden Vibes possible and everyone who attended to make this the huge success it turned out to be.
All photos from the night are now in the Photo Gallery.

Please do not forget to leave your feedback on our FORUM page. Your feedback is very important to us to make our future events even more successful.