Poson Heel Dhana Event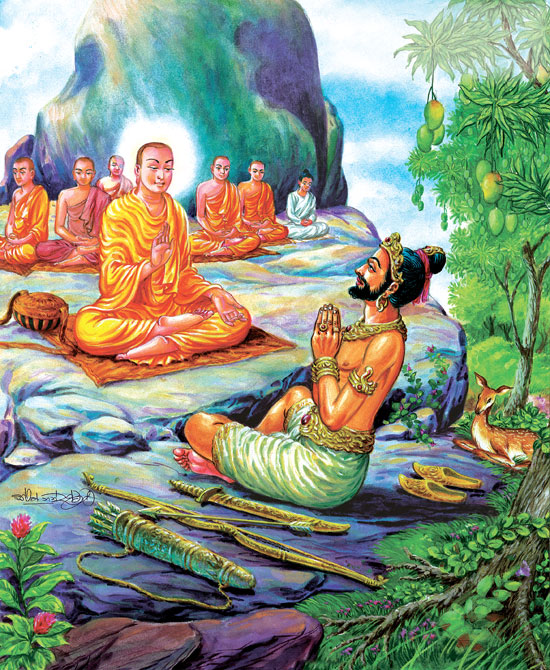 Poson Heel Dhana organised by Mahanama College OBA Australia was held held at the Sakyamuni Sambuddha Vihara, Berwick on the 2nd of June 2012. MCOBA would like to thank everyone who contributed towards the dhana and all members and their families who participated on the day.

Rugby U19 - Wesley in easy 45-7 win over Mahanama
Wesley coasted to their third successive win of the Singer Under 20 Division 1B rugby tournament with an easy 45-7 victory over Mahanama played at the Air Force ground in Ratmalana yesterday.
Wesley led 17-0 at the breather and accumulated their full time tally through five goals and two tries to a goal by Mahanama.
The Wesleyites with skipper and No 8 Kokila Sammandapperuma along with second row Mohamed Yoonus and center Samaka Herath scoring two tries each while wing three Gavin Siegertz scored the other try. Scrum half Rahul de Silva converted five of the tries.
2012 Six-a-Side Cricket Match won by MCOBA Australia
(More detals to follow.)
View Photos for all the action from Sx-a-Side Cricket Match.
DSS wins the 2nd annual T20 encounter by 44 runs
DSS OBA - 152 all out
MAHANAMA OBA - 108 all out
(more details to follow)
Score card
DSS OBA innings (20 overs maximum)
R
B
4s
6s
SR

Kasun Suriaratchie

caught / b Chathuska Illeperuma


64

5

6




Amal Gunaratne

caught / b Prageeth Pathiranage

32

5

1



Amila Gunaratne


caught /

b Chathuska Illeperuma

7

0

0




Gami Jayasinghe

caught

/ b Prageeth Pathiranage

16

0

1



Thamaru Jinasena


caught / b

16

1

1




Varuna Somaratne

caught

/ b Shaleen De Silva

3

0

0




Sachintha Bandara

caught

/ b Liyan De Silva

0

0

0




.

caught

/ b Shaleen De Silva


1

0

0




Hemal Dharmawardhana

run out

4

0

0



.

lbw /

b Liyan De Silva


0

0

0



.

not out

1

0

0




Extras

(nb 1, w 7)

8



Total

(all out; 20 overs)

152

(7.60 runs per over)
Fall of wickets
1-92 (Kasun Suriaratchie)

,

2-105 (Amal Gunaratne)

,

3-120 (Amila Gunaratne)

,

4-141 (Gami Jayasinghe)

,

5-146 (Thamaru Jinasena)

,

6-147 (Sachintha Bandara)

,

7-147 (???)

,

8-148 (???)

,

9-150 (???)

,

10-152 (???)
| | | | | | | | |
| --- | --- | --- | --- | --- | --- | --- | --- |
| Bowling | O | M | R | W | Econ | . | |
| Priyan Dabare | 1 | 0 | 20 | 0 | 20.00 | (1w, 1nb) | |
| Shaleen De Slva | 4 | 0 | 35 | 3 | 8.75 | | |
| Niluka Dilhara | 3 | 0 | 39 | 0 | 13.00 | (3w) | |
| Liyan De Silva | 4 | 0 | 16 | 2 | 4.00 | | |
| Chathuska Illeperuma | 4 | 0 | 24 | 2 | 6.00 | (1w) | |
| Prageeth Pathiranage | 4 | 0 | 18 | 2 | 4.50 | (2w) | |
MCOBA Australia innings (target: 153 from 20 overs)

R
B
4s
6s
SR

Waruna Liyanage

caught / b Waruna

12




0

0




Lalith Karunanayake

caught

/ b Dinusha Bandara

5




0

0




Shaleen De Silva

caught

/ b Nuwan

7

0

0




Liyan De Silva†

caught

/ b Waruna

6

1

0




Wirantha Munesingha

caught

/ b Hemal

22

1

2




Prageeth Pathiranage

bowled / b Sachithra

40

7

1




Priyan Dabare

caught / b Hemal

3

0

0




Rakitha Wickramasinghe

caught / b Sachithra

4

0

0




Chathuska Illeperuma

caught / b Hemal

4

1

0




Niluka Dilhara

caught / b Sachithra

0

0

0




Indika De Silva

not out

0

0

0




Extras

(lb 3, w 3, nb 1)

7

Total

(all out; 18.3 overs)

108

(5.84 runs per over)
Fall of wickets 1-20 (Shaleen De Silva, 6 ov), 2-30 (Waruna Liyanage, 9 ov), 3-30 (Liyan De Silva, 9 ov), 4-83 (Prageeth Pathiranage, 14 ov), 5-90 (Priyan Dabare, 16 ov), 6-98 (Wirantha Munesingha, 17 ov),
7-103 (Chathuska Illeperuma, 17 ov), 8-105 (Niluka Dilhara, 18 ov), 9-106 (Rakitha Wickramasinghe, 18 ov),
10-108 (Lalith Karunanayake, 19 ov)
| | | | | | | | |
| --- | --- | --- | --- | --- | --- | --- | --- |
| Bowling | O | M | R | W | Econ | | |
| Amal Gunaratne | 4 | 0 | 10 | 0 | 2.50 | | |
| Nuwan Withanage | 4 | 0 | 17 | 1 | 4.25 | | |
| Varuna Somaratne | 3 | 0 | 32 | 2 | 8.00 | (1w, 1nb) | |
| Hemal Dharmawardhana | 4 | 0 | 28 | 3 | 7.00 | | |
| Sachintha Bandara | 3 | 0 | 11 | 3 | 3.67 | | |
| Dinusha Bandara | 0.3 | 0 | 1 | 1 | 2.00 | (1w) | |
Match details

Toss DSS OBA, who chose to bat


Player of the match Kasun Suriaratchie (DSS OBA)
Best Batsman Kasun Suriaratchie (DSS OBA)
Best Bowler Prageeth Pathiranage (MCOBA Australia)


Umpires

???

(Victoria) and ??? (Victoria)