Mahanama College beat D.S.Senanayake College by 28 runs in the One-Day version of the Battle of the Golds 2016 at the R. Premadasa Cricket Stadium in Colombo
thepapare.com
Mahanama College came out to bat, clearly with a good plan to try and control the strong D.S. bowling attack, as they could not afford to repeat their performance at the test match just a week ago, losing early wickets that made them vulnerable and unable to post a big total. They played a text-book innings, maintaining a healthy run rate of just over a run-a-ball throughout their inning.
Opener Sahan Peiris played a sensible knock, scoring 59 off 101 balls with 5 boundaries. He was not looking to go big all the time, pushing the ball around for singles and couples, putting pressure on the bowlers to do something different, then lashing on to the bad bowls that followed. A couple of cameos at the middle from Yasiru Peiris, Malindu Maduranga and Heshan Hettiarachchi ensured that Mahanama got to a defendable total of 213 for the loss of 8 wickets at the end of their quota of 50 overs.
D.S. may have been confident at that point, since they showed impressive skills with the bat at the Oval, the captain and his second in command, leading from the front. The vice captain Thimila Vidyasekara however, could not repeat his innings at the P. Sara Oval. The Sri Lankan U-19 opener and captain Kaveen Bandara was the lone ranger of the innings, scoring almost half the team total. The other batsmen kept failing around him as he scored a true captain's knock of 92 off 101 balls before being stumped, trying to advance down the pitch to a delivery from Harshana Vithanage.
D.S. ended up losing all 10 wickets for 185 runs in just 46.1 overs, losing the Battle of the Golds One-Day encounter to Mahanama College, Colombo.
Score Summary
Mahanama College 213/8 (50 overs) - S Peiris 59 (5x4s), Y Peiris 34 (4x4s), K Bandara 3/33 (6 overs), M Lakshan 2/39 (10 overs)
D.S.Senanayake College 185/10 (46.1 overs) 198 all out in 41.3 overs (Mohamed Reeza 17, Aman Ahamed 16, Ashan Hettiarachchi 62, H. Nissanka 29, Rashmika Waduge 17, S. Fernando 2 for 21, Nipul Withanage 2 for 21).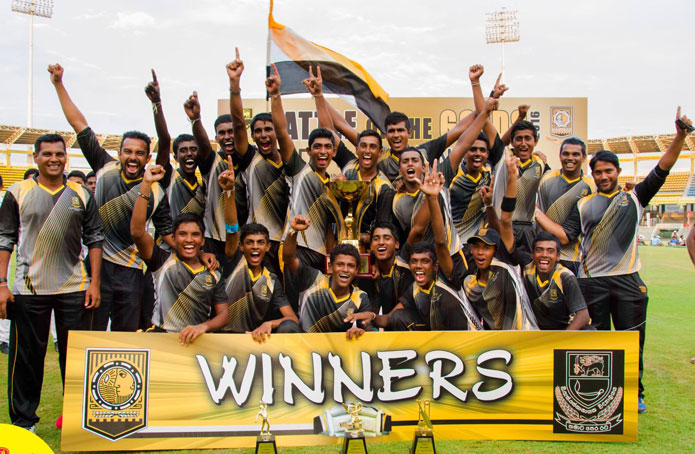 {flike id=208}
{fcomment id=208}